︎︎




Doubly Mad is a biannual literary and visual arts journal published by

The Other Side of Utica, Inc.

with support through granting organizations and our readers. Our aim is to publish excellent poetry, fiction, essays and visual art, with an emphasis on people working and living in Central New York, though not to the exclusion of our neighbors throughout the U.S. and around the world.

Previous issues of Doubly Mad as well as contributers are featured below.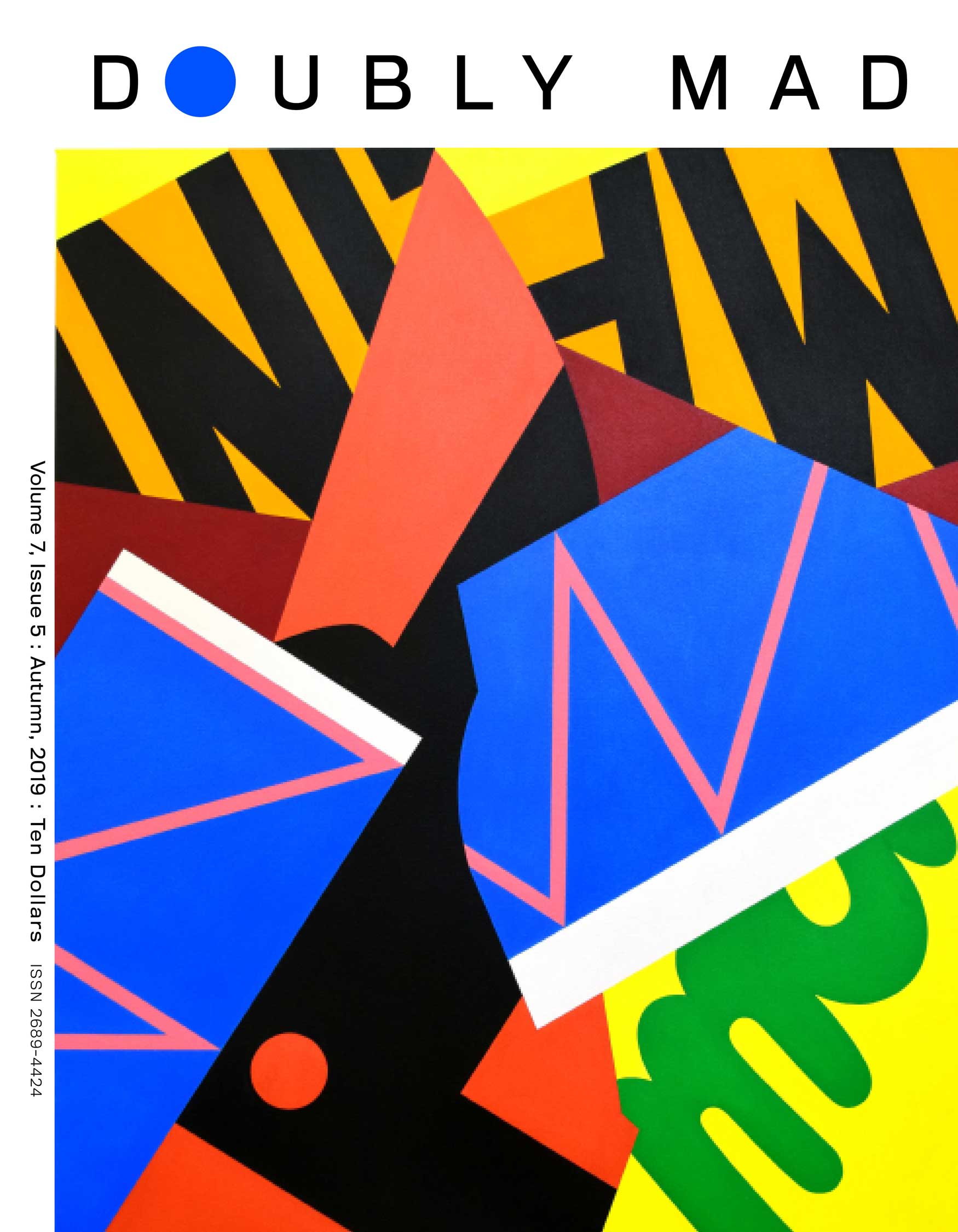 DOUBLY MAD JOURNAL
Volume 7, Issue 5
Autumn 2019

Featuring:
John Loy (Artwork)
Kim Domenico (Essay)
Isis Davis-Marks (Essay)
Victoria Ocampo (Essay)
Peter Szilagyi (Poetry)
Gary Duehr (Poetry)
Trevor Knorr (Poetry)
Mike Dubaniewicz (Interview)
Cindy Day (Poetry)
Jane Ellen Glasser (Poetry)
Shelly Callahan (Interview)
Thomas Townsley (Poetry)
Ruth Ann Dandrea (Short Fiction)
Orin Domenico (Editorial, Poetry)
Guest Editors:
Kate Casler (Poetry)
Trinh Truong (Nonfiction)

DOUBLY MAD JOURNAL
Volume 7, Issue 4
Spring 2019

Featuring:
Kathy Donovan (Artwork)
Maria Peycke (Photography)
Ruth Ann Dandrea (Short Fiction)
Carmine Dandrea (Poetry)
Casey Burke-Ruhl (Poetry)
Eileen Moeller (Poetry)
Andrew Sblendorio (Performance Piece Script)
Philip Memmer (Poetry)
J. Schnitt (Interview)
Kim Domenico (Essay)
Orin Domenico (Essay)
Simon Perchik (Poetry)
Thomas Townsley (Poetry)
DOUBLY MAD JOURNAL
Volume 7, Issue 3
Fall 2018

Featuring:
Cindy Day (Poetry)
Serena Perrone (Artwork, Interview)
Craig Czury (Poetry)
Rialda Shulman (Poetry)
Alexis Aguam (Personal Essay)
Ruth Ann Dandrea (Poetry)
Kim Domenico (Essay)
Orin Domenico (Poetry)
DOUBLY MAD JOURNAL
Volume 7, Issue 2
Spring 2018

Featuring:
Malcolm Flanigan (Short Fiction)
Thomas Townsley (Poetry)
Jessica Jones (Collage)
Kim Domenico (Essay)
John Bentham (Photography)
Ruth Ann Dandrea (Poetry)
Michael Muller "Miguel" (Poetry)
Alexis Aguam (Personal Essay)
John Paul Gardner (Collage)
Joe Ducato (Short Fiction)
Orin Domenico (Essay)
DOUBLY MAD JOURNAL
Volume 7, Issue 1
Fall 2017

Featuring:
Geena Massaro (Cover, Artwork)
Ruth Ann Dandrea (Fiction)
Connie Christiana (Poetry)
Orin Domenico (Poetry)
Julia Galime Cooper (Poetry)
Holly Wilson (Artwork, Interview)
Alexis Aguam (Fiction)
David Deeley (Poetry)
Thomas Townsley (Poetry)
Kyle Corea (Photography, Film Stills)
Patrick Scanlon (Essay)
Kim Domenico (Essay)
Steven Specht (Poetry)
Colleen Doody (Photograph)
Anthony Thompson (Illustration)
---

© Doubly Mad 2020 All rights belong to the authors/artists